Everest is an open-source mod loader and modding API for Celeste, allowing you to create custom map packs, texture replacements and code mods to your heart's content.
Features

We're too busy and don't have time to update this list.
It would also be longer if that Berry guy would've ignored us!
In-game updater and dependency downloader
Cross-platform: Windows, macOS, Linux

Works with itch.io, Steam and Epic Games.
Doesn't (and probably won't ever) work with the Windows Store.

TASBot-verified
Easily switch between Everest and vanilla Celeste from the title screen or Olympus
Load mod files without messing with your original files:

Custom sound effects
New decals, tilesets, sprites and other graphics
Custom character dialogues
Completely new maps and campaigns
And anything else thanks to code mods

Sound test - including easter eggs hidden in Celeste by the legendary Kevin Regamey
Quality of life improvements:

Gets you out of most softlocks (disabled for vanilla maps)
Discord Rich Presence - share your stats live
Use your keyboard to rename save files

Enhanced Debug Mode:

Toggle the hidden debug mode in-game - no save file edits needed
Live reloading of the map you're working on, both automatic and via F5
Reload all code and assets quickly using CTRL + F5
F6 to open the improved map viewer - now without losing progress and with SHIFT / CTRL modifiers!
Got a keyboard without ~ and want to open the console? Press .
Speaking of console: Live log output using the --console launch flag

A lot of unhardcoded and customizable entities for your custom maps
And much more that did not fit into this list. Whew!
Installing Everest
Olympus - Cross-platform Everest Installer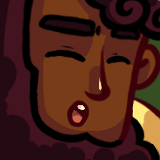 YOLO! This fancy tech is very fresh so don't be surprised if it blows up in your face.
Please report all bugs to the Everest Team in #modding_help on the Celeste Discord server!
Feel free to scroll down to the manual installation instructions if this doesn't work.
If you are on Windows:

If Windows SmartScreen blocks it, tell it to run anyway.
If your antivirus blocks it, let them analyze it as a false positive and if possible, send them here.
Olympus can update itself and injects Everest code into Celeste.exe but both are open-source.



If you are on macOS:

If you are on Linux:

No matter what platform you are on:

If there's a red ! on the options button, update Olympus first.
Press on the "Manage" button on the left side.
Add your Celeste installation(s), change the name(s) as you see fit.
Go back (top left corner) and press the huge Everest installation button.
Select an Everest version and hit the long "Install" or "Update" button.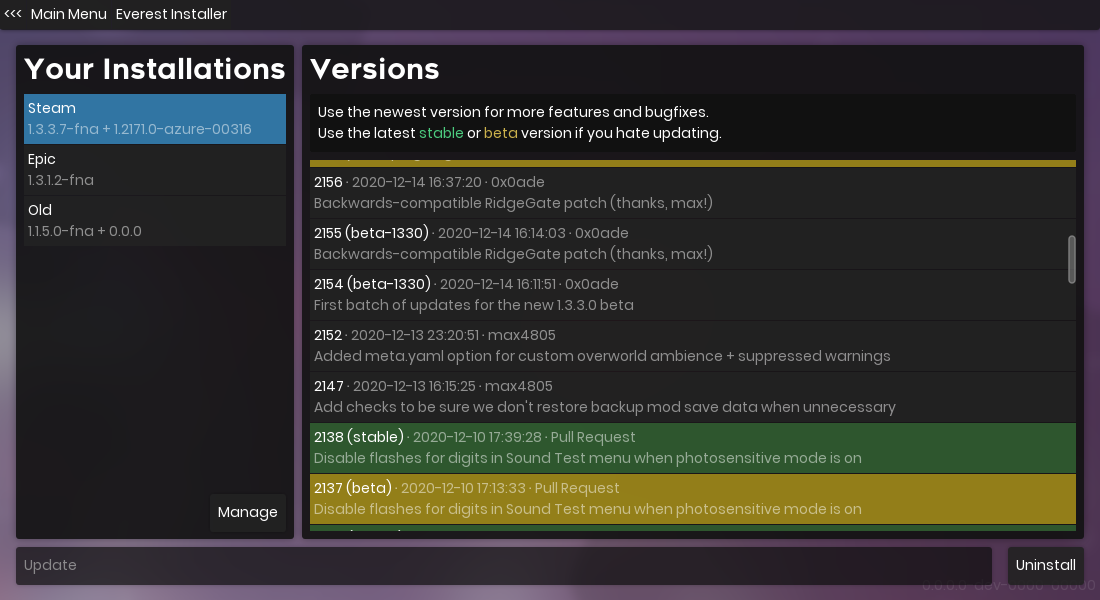 Everest.Installer for Windows (old)
If Windows SmartScreen blocks it, tell it to run anyway.
Cross-platform manual installation

If you need to scroll down this far, please let us know why so we can improve Olympus.
If you're on Linux, feel free to try the unofficial EverInst at your own risk.
For now, please hold tight with the following manual installation instructions!
Installing mods
Find a mod that you want to play with on GameBanana.
Press the 1-click installation button.

If the 1-click installer doesn't work, put the mod .zip into the Mods directory where Celeste is.
For prototyping and development, feel free to use a folder instead of a .zip

That's it. No need to extract anything.